Payment/Shipping and Return Information
All of our orders are shipped from our warehouse in Union city, California, USA. Orders are shipped via UPS, FEDEX, DHL, TNT, US Mail or Freight carrier for large orders. We try to ship most orders received within 2 to 3 business days. Once your order is shipped, you will be e-mailed your tracking number.



Payment :


We accept payment by all major credit cards such as Visa, Mastercard, Discover, and American Express. We also accept payment via PayPal.
If you want to pay by Paypal, please select the paypal option for paying. Your order information will be sent to us. We will email you back, confirming your order and total invoice amount. You can then send payment to our paypal account: sales@jqlab.com. Your order will be shipped once payment is received.
For payments made using credit card, we do NOT charge your card immediately during the payment and checkout process. Your information is taken securely. We charge your card when your order is ready for shipping.



Shipping Information: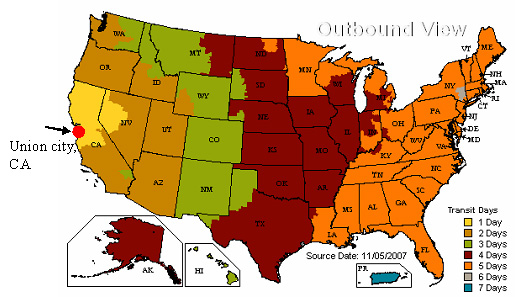 This map is a general representation of UPS Ground transit times from Union City, CA to addresses within the USA.



Orders shipped within USA and Canada :


Most of the orders shipped within USA and Canada are via UPS, FEDEX, DHL, TNT or US Mail.
UPS offers a number of options for package delivery. You can select ground shipment, 3-day shipments, 2-day shipments, and next day shipments. Please note that we ship from Union City, CA, 94587. Standard ground shipment times vary based on where the package is being shipped. For example, ground shipments from California to locations on the US East coast will take 5 business days, from CA to CO, and AZ will take 3 business days, from Union city, CA to southern CA, WA and OR will take 2 business days.
Larger orders requiring pallet load products are shipped via motor freight. The shipping and handling charges are dependent on the weight of the product and the destination.



Orders shipped to International destinations :


For International Orders, we can ship via air cargo or sea freight. For smaller orders expediting shipping can be through, FEDEX, DHL or TNT. Air cargo and sea freight charges can vary significantly depending on the destination country, weight and volume of the shipment. We will try to find the best shipping rates for shipping to your country.
Please feel free to, fax or email us with your questions.
Email: sales@jqlab.com
Fax: 1-(510) 4412500
We are open:
Mon - Fri 9.00 AM to 5.00 PM Pacific Standard Time (USA)




Return Policy:


Products returned back are accepted only on prior approval with a Return Goods Authorization Number (RGA#) certain restrictions apply. Because of the time and expense involved in receiving and restocking packages we will charge a 15% restocking fee on all returns and exchanges. There are no refunds on shipping charges for returns. Please review the product information carefully before ordering. If you have questions please call and inquire before ordering.
We take great care in packaging our products. All packages are inspected before dispatching. Please inspect all packages at the time of arrival. If the package is damaged, please do not accept the package and inform your carrier (UPS, FEDEX, DHL, TNT, US Mail or local mail service) immediately.